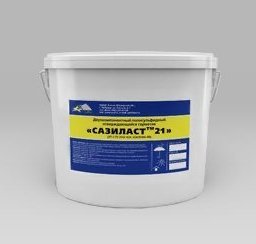 Where to buy
Place an order for goods, hold and consultation: +7 (985) 258-30-26 sales@sazisealants.com
It is a thiol-containing two-component sealant with increased UV tolerance, high oil-and-gas resistance and water resistance. It is applied only to the dry surface. It is designed for long-time sealing of joint gaps, with the deformation ratio reaching 25 percent.

It has high adhesion to main construction materials (concrete, bricks, natural stones, metal, glass).
Coating temperature range: from –15°С to +40°С.
Supplied colours: light-gray.
The vulcanized surface is of semi-gloss colour, painting is forbidden.
No shrinkage.
Density: 1450 kg/sq.m.
Projected lifetime – 10 years.
Filling: 15.4 kg package (a 14.0 kg metal bucket and a 1.4 kg plastic bag inside the bucket).
Consumption: 100 g per running meter, with the joint width being 20 mm and the layer thickenss - 3 mm.
Guaranteed storage life in original packing – 6 months with temperatures ranging from - 20°С to + 30°С.
Back to catalog
Place an order