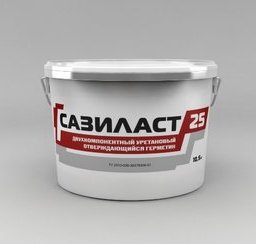 Where to buy
Place an order for goods, hold and consultation: +7 (985) 258-30-26 sales@sazisealants.com
It is a high-tech polyurethane sealant. According to GUP NII Mosstroy (research institute), it can be used for filling joints of building envelopes, with the maximum permissible deformation being 25 percent during a period of 25 years and minimum layer thickness of 3 mm, which helps increase time between overhauls. It is painted with organic solvent-containing finishes. The sealant's excellent stress-strain behaviour makes it possible to apply it for sealing contraction joints of engineering structures, with the deformation ratio being up to 50 percent.
It is used for durable sealing of joints between wall panels, between outer cladding panels and deformation gaps. It has high adhesion to main construction materials (concrete, bricks, natural stones). It can be applied to wet surfaces but the presence of water film is inadmissible.
Coating temperature range: from –15°С to +40°С.
Supplied colours: white, other colours should be ordered.
The vulcanized surface is of dull colour, acrylic paints, containing organic solvents, can be applied to make a coat of paint. No shrinkage.
Density: 1450 kg/sq.m.
Projected lifetime – 20 years, the deformation ratio being 25%.
Filling: 10.5 kg package.
Consumption: 96 g per running meter, with the joint width being 20 mm and the layer thickenss - 3 mm.
Guaranteed storage life in original packing – 6 months with temperatures ranging from - 20°С to + 30°С.
Back to catalog
Place an order