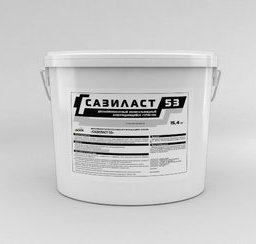 Where to buy
Place an order for goods, hold and consultation: +7 (985) 258-30-26 sales@sazisealants.com
It is a two-component polysulfide sealant very resistant to long-term effects of water. It also has high chemical resistance. It is designed for long-time sealing of roof coatings, foundations, joint clearances and junctions, which are subjected to long-term effects of aqueous environments, including acidic and alcaline media. It has rather high strength characteristics and high adhesion to main construction materials (concrete, bricks, natural stones, glass, metal).

The sealant is characterized by high strength, it is recommended for sealing of joints taking considerable transverse loads: in road and foot pavements, bridge links, parking lots, industrial premises, etc.

Coating temperature range: from -15°С to +40°С.
Supplied colours: gray, black. The completely vulcanized surface is of semi-gloss colour, painting is forbidden.
Consumption - 320 g per running meter, with the joint's width being 20 mm and thickness - 10 mm.
Filling: 15.4 kg package (a 14.0 kg metal bucket and a 1.4 kg plastic bag inside the bucket).
Guaranteed storage life in original packing at temperatures from -20°С to +30°С - 6 months.
Back to catalog
Place an order