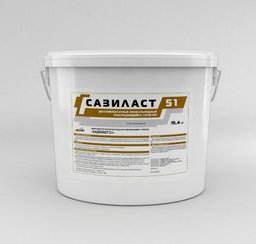 Where to buy
Place an order for goods, hold and consultation: +7 (985) 258-30-26 sales@sazisealants.com
It is a two-component polysulfide filling sealant with high chemical endurance and increased UV tolerance. It is used for long-time sealing of roof coatings and foundations: joint clearances and junctions exposed to effects of aggressive environments (acidic and alcaline media, fuels and oils, underground water, etc). It has high adhesion to main construction materials (concrete, bricks, natural stones, glass, metal).

It is designed for sealing plow grooves and elements of sheet-metal roofing, skylights, sandwich panels, foundation joints, inlets of supply lines and riveted connections.

Coating temperature range: from -15°С to +30°С.
Supplied colours: gray. black.
The vulcanized surface is of semi-gloss colour, painting is forbidden.
Consumption: 320 g per running meter, with the joint width being 20 mm and the layer thickness - 10 mm.
Filling: 15.4 kg package (a 14.0 kg metal bucket and a 1.4 kg plastic bag inside the bucket). Guaranteed storage life in original packing – 6 months with temperatures ranging from - 20°С to + 30°С.
Back to catalog
Place an order